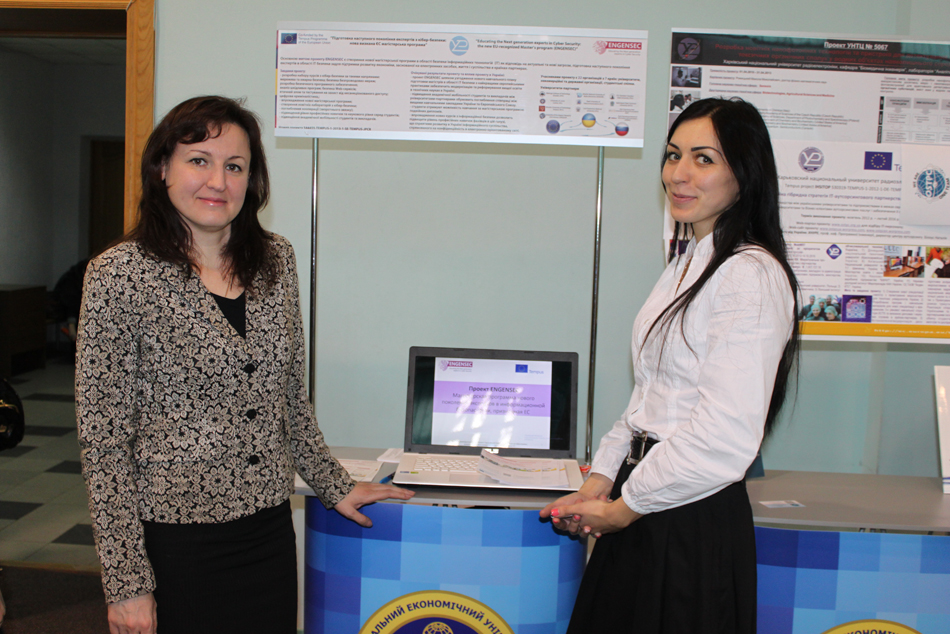 The First Regional Resources forum in
education sphere in Ukraine took place in Kharkiv on 10 December, 2015. Forum program included an exhibition of projects and scientific developments, the presentation of grant programs by international companies and lectures of foreign specialists. Students, teachers and educational organizations could share their experiences with colleagues from other regions.Horizon 2020, Erasmus+ and more than 30 different Tempus projects were represented at the forum.
The event joined delegates from National Erasmus+ office in Ukraine, Ministry of Education and Science of Ukraine, Kharkiv National University, Simon Kuznets Kharkiv National University of Economics, Kharkiv National University of Radio Electronics, Kharkiv Polytechnic Institute, Kharkiv Regional Institute of Public Administration and other institutions.

The ENGENSEC project was represented at the forum by partners from the Kharkiv National University of Radio Electronics, Olena Tkachovа, dissemination partner from Ukraine, and Oksana Yevsieieva, the project coordinator from Ukraine. They acquainted other participants of the forum with information about main purpose, tasks and benefits of ENGENSEC project. During the presentation Oksana and Olena answered a lot of questions from the audience. Students were interesting in answers about an obtaining a double Master's degree, requirements of participation in the project, the necessary level of knowledge to attend the summer school in Lviv in July, 2016.
Not all of projects have been honored to be represented at the forum. But we can proud that the ENGENSEC project was appreciated greatly by managers of the event and it has been awarded this honor.