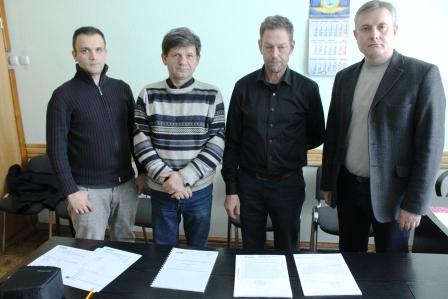 The procedure of opening Commercial proposals took place on 1 March 2017in Kharkiv National University of Radio Electronics (Kharkiv, Ukraine). The procedure was divided into two phases – the phase of Commercial proposition opening and the phrase Commercial proposals evaluation.
Three Commercial proposals from Companies were received during the tender period (from 2017-02-06 to 2017-02-28 24:00 hours Ukraine time). All envelopes with Commercial proposals were non-corrupted and not open before. All envelopes were stamped by official stamp of Company who prepare the Commercial proposals.
Anders Carlsson, head of tendering committee (BTH, Sweden), together with members of tendering committee in face of Arkadii Snehurov (KhNURE, Ukraine), Voitusik Stepan (LNPU, Ukraine), Sokolov Vladimir (SUT, Ukraine) and secretary of tendering committee Olena Tkachova (KhNURe, Ukraine) have open the envelopes with Commercial proposals.
The broad aim is to select the "most economically advantageous proposition". The prices of equipment, conformity to required technical specification, the quality, and delivery terms were the main criteria of evaluation of Commercial proposals.
As a result of evaluation, the Solti Company (http://www.solti.com.ua/) has obtained the primary position. The conditions – lowest price of equipment, conformity to required technical specification.