All sessions will be held at seminar rooms in National Technical University of Ukraine "Igor Sikorsky Kyiv Polytechnic Institute", route from the metro station Polytechnic Institute and from student campus could be found here, map  here.
Participants need to bring their own laptops.
Restaurant for lunch that near university could be found here.
Coffee, tea, water, snacks are available during the session.
All classes will be conducted neither in the Library building (L) or in the Academic Building No.11 (11). On the map student campus is marked by yellow square with number 19.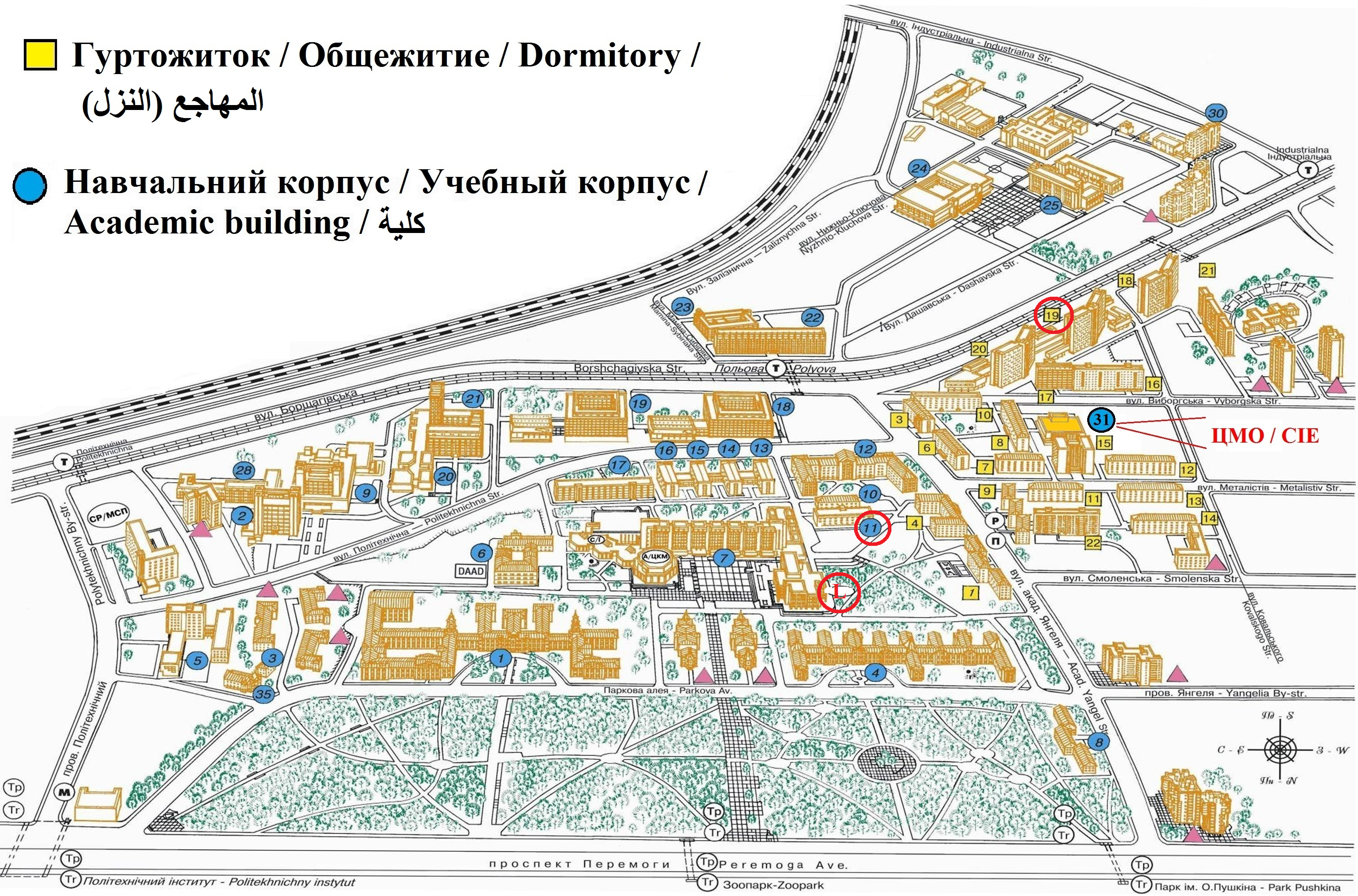 The organizer reserves the right to make changes to the event program.
Monday
08:30- 09:00 Registration in Library (L) building
09:00 – 09:30 Welcome by the organizers and sponsors. Practical information
09:30 – 10:40 Malware with Alex Adamov (L)
10:40- 11:00 Coffee break (11)
11:00 – 12:30 Malware practice (11)
12:30 – 13:30 Lunch
13:30 – 15:30 Malware (L)
15:30 – 15:50 Coffee break (11)
16:00 – 18:00 Malware practice (11)
Tuesday
09:00 – 10:40 Malware with Gokcer Peynirci (L)
10:40 – 11:00 Coffee break (11)
11:00 – 12:30 Malware practice with Alex Adamov (L)
12:30 – 13:30 Lunch
13:30 – 15:40 Software security with Tomasz Surmasz(L)
15:40 – 16:00 Coffee break (L)
16:00 – 18:00 Software security practice (L)
Wednesday
09:00 – 10:40 Software security (L)
10:40 – 11:00 Coffee break (L)
11:00 – 12:30 Software security (L)
12:30 – 13:30 Lunch
13:30 – 15:45 Software security (L)
15:45 – 16:00 Coffee break (L)
16:00 – 18:00 Memory Dump Analysis with Anders Carlsson (L)
20:00 – guided tour over Kiev (approx.2 hours)
Thursday
09:00 – 10:40 Memory Dump Analysis (L)
10:40 – 11:00 Coffee break (11)
11:00 – 12:30 Memory Dump Analysis. Practice tools (L)
12:30 – 13:30 Lunch
13:30 – 15:40 OSINT and Incident response automation with Oleksii Baranovsky(L)
15:40 – 16:00 Coffee break (L)
16:00 – 18:00 Incident response. Practice tools (L)
Friday
09:00 – 10:40 Incident response hands-on (L)
10:40 – 11:00 Coffee break (L)
11:00 – 12:30 #CTF game (L)
12:30 – 13:30 Lunch
13:30 – 15:40 #CTF
15:40 – 16:00 Coffee break
16:00 – 18:00 #CTF
18:00 – 19:00 Certification. Final talk
Routes to location

If you have any questions please don't hesitate to contact us:
Ukraine: Oleksii Baranovsky alexey.baranovskiy@gmail.com
Sweden: Anders Carlsson, anders.carlsson@bth.se
Poland: Tomasz Surmacz, tomasz.surmacz@pwr.wroc.pl
More: it-summer@engensec.eu
Skype: Ievgeniia Kuzminykh